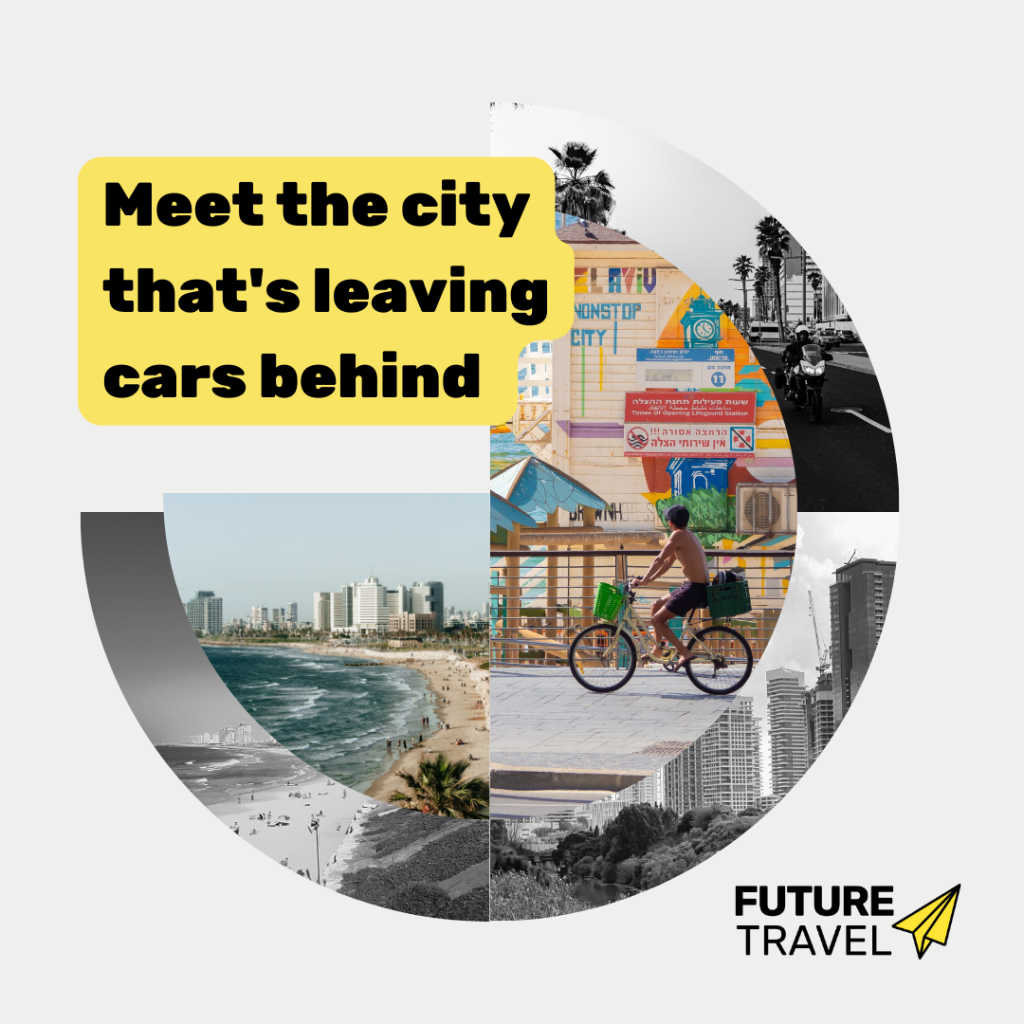 There is a big project in the works for the future of Tel Aviv: the city is planning on building 350 km of bike lanes until 2025.
Israel's capital is one of the cities that faces the worst traffic car jams in the world and is now actively working to improve its transportation system, including expanding its public transportation network and encouraging the use of alternative modes of transportation, such as bikes and electric scooters.
Meet Tel Aviv, the city that is prioritizing alternative means of transport to solve an urbanism and infrastructure problem, betting on more sustainable and democratic solutions.
A congested city creating sustainable solutions through technology
In 1948, when Israel declared independence, Tel Aviv became one of its major cities and it's considered a thriving center of commerce, culture, and technology. Known for its Mediterranean beaches, rich history, and innovative spirit, Israel attracts millions of visitors every year and as their biggest city, so does Tel Aviv — Israel had 4.5 million tourist entries in 2019, the largest number ever.
The 52-square-kilometer city is, currently, the 16th most congested city in the world, according to the 2021 Tomtom traffic index, what makes residents and tourists face big challenges to get around.
Many complain about traffic, congestion and the absence of a subway; also, as Tel Aviv's government mentions, there are complaints about the 'disappearance' of the buses on Saturday (the Jewish day of rest).
What could Tel Aviv do? They decides to put the city on the map for combining technology initiatives for creating effective solutions on a recurring problem to residents and visitors, betting on more sustainable transports for its present and future — today, two-wheel electric vehicles substitute almost a million car or taxi rides monthly, according to Tel Aviv's City Hall.
Tel Aviv is a real startup hub. We have about 1000 startups and for a tiny city of just 52 square kilometres, that is a lot. It is the Middle Eastern version of the Silicon Valley, so we tend to call it the "Silicon Wadi". Many of these startups belong to the travel tech segment.

Dr. Isaac Mizrachi, Tel Aviv Global's Director of Tourism to Destination Think.
Tech-driven solutions creating environmental positive impact
The popularity of electric scooters and bikes in big cities has grown in recent years, and they are now widely used as a convenient and environmentally friendly mode of transportation. Being a technology and startup hub itself, Tel Aviv'' residents profile shifted and, along with it, became more common to see people going around, getting to work or doing groceries accompanied by an electric scooter or bike, rented or not.
To get a little bit deeper about environmental impact that "going electrical" may cause regarding carbon print emissions and so on, Bloomberg's article mentions data from Bird Global Inc., the first e-scooter rental company in the city: "in the past three years its riders alone have cut city emissions by an estimated 1,283 tons — about the same amount of carbon dioxide it said is sequestered annually by 55,000 trees."
Micro mobility solutions and its impact on the travel industry
When we talk about tourism and the travel industry, it overlaps a lot with mobility and transportation topics, but sometimes it is not so clear how.
Creating a more clear argument regarding the travel industry, if there is no transport there is no travel. We must consider how people move within cities as well as from one city, continent, country or state to another.
Micro mobility solutions have a clear impact in that way, transforming the city's atmosphere and functioning, as behavioral changes do. Tel Aviv's decision to invest on micro mobility will change how people travel there because it changes the perception and creates desire towards this innovation.
The broader use of scooters and bikes may lead to some challenges, of course. In case of few bikes and lanes and proper space to navigate, they may cause crowded sidewalks, safety concerns, decreased public space and accessibility for those with disabilities, for example.
Though, in order to address the harms and issues, the city can take Tel Aviv's example, implementing regulations to manage the use of scooters and promote safe and responsible use. Tel Aviv's approach on prioritizing space for two-wheel electric vehicles is impactful and wise, being an inspiration for travel tech companies joining efforts on popular destinations, creating better — and perhaps even more fun — experiences for visitors.
Crowded and popular travel destinations may address it as a solution that is eco-friendly, wise, young and popular.
And additionally, they are an increased convenience for travelers and people without personal vehicles — this action may even increase tourism revenue and economic activity locally. Regarding the environmental side, the air quality improves, the carbon footprint is reduced, traffic congestion shrink… Sounds like a good idea.
The good and the bad: is going e-scooter a good option for tourists?
Besides being a fun way of moving around in the city, which is in fact a very important argument to a large public, driving a two-wheel vehicle around the city might impact on shaping a new type of traveler.
People will get the chance to get to know the place so much better, and by choice. Imagine that instead of hopping from train to metro to buses, tourists may check the itinerary on Google Maps and basically make their own route to their destination. Choosing how they will move through the city, if they take longer or not, if they stop at some interesting restaurant or browse at an interesting bookshop, will likely create so many more possibilities for their own travel experience. It appears to be a more organic way of visiting a city and exploring its little hidden corners, nurturing a special bond with that place.
If you take Amsterdam's example, a city known for the broad bike use by locals, when tourists rent bikes to move through the city they get that amazing taste of how it feels to be local. You have the chance to fall in love with the brick houses, feel the wind while you go through beautiful canals and finding out that a raincoat is the perfect outfit for the city. Not stopping there, they need to also understand the local rules, how people act with each other, what matters to them, what you can't and can do — and, of course, relate it to your own personal experience comparing it to the place you live. That is the kind of thing that people talk about when they tell a story.