That's a wrap! Our second in-person FutureTravel Summit took place in the historical setting of Estrella Damm Brewery, and it was truly exceptional. The event was filled with captivating keynotes, enlightening panel discussions, and an exhilarating pitch competition featuring startups from around the world.
This year, we set out to unite key players propelling the travel industry forward – those deeply invested in its future and committed to staying at the forefront of sector innovations. Our vision was to foster interaction and dialogue, and we achieved exactly that. Panels featured diverse participants from various sectors, an eclectic audience, and invigorating networking sessions, all while enjoying refreshing beers.
The cozy and intimate ambiance of this year's event fostered active engagement between attendees and speakers. Networking breaks were equally vibrant, with attendees enthusiastically forging valuable connections, creating a truly dynamic atmosphere. In addition, we had the pleasure of partnering with excellent sponsors, media partners, and collaborators for coffee, device charging, gifts, and exciting activities, adding to the overall experience.
Highlighting future industry leaders
In addition to spotlighting the innovations and trends propelling the travel industry, we showcased emerging talents and entrepreneurs in the sector. Among the event's highlights was the Pitch Competition, featuring 7 finalists (selected from 240 applicants) who presented their businesses to both the audience and the jury. And the moment we've all been waiting for – the winner of the FutureTravel Summit Pitch Competition is…
Taking home the pitch competition crown and securing the grand prize was Namastay, a startup on a mission to solve online bookings and payments for hotels.
Namastay's win comes with a remarkable prize package valued at over €55k which includes a spot in Scaleway's Growth Stage Startup Program worth €36k; €9.9k in credits for an explainer video maker account of simpleshow, 1 year Guru Plan for SEMrush; €2k of Miro credits to be spent on every plan; Exhibition table at the EU-Startups Summit 2024; 5 week Fundraising Masterclass by Ennea Capital Partners, 6 months free of NotionPlus & Unlimited AI; and 3 event tickets to participate in the next edition of the FutureTravel Summit 2024.
Built in Paris, Namastay was founded in 2021 to bring more digital solutions to the travel industry, through an optimized booking and payment solution directly integrated into hotels' websites. Namastay provides a seamless, engaging and fast booking experience (with Apple Pay and Google Pay), through their "one-click to your room" cloud technology.
Thank you to our sponsors
The FutureTravel Summit was only possible with the support of our amazing sponsors:
IAAPA is the premier trade association representing the diverse and ever-changing attractions industry members from more than 100 countries. From amusement parks and resorts to museums and cruise lines, operators and vendors, IAAPA brings together professionals from various sectors to provide meaningful experiences for their guests worldwide. Additionally, IAAPA hosts global events and conferences that spread successful ideas and practices, as well as provide valuable tools that make businesses smarter, safer, and more profitable while delivering exceptional guest experiences.

Airwallex is a leading global financial platform for modern businesses, offering trusted solutions to manage everything from payments, treasury, and spending management to embedded finance. With its proprietary infrastructure, Airwallex takes the friction out of global payments and financial operations, empowering businesses of all sizes to unlock new opportunities and grow beyond borders. Proudly founded in Melbourne, Airwallex supports over 100,000 businesses globally and is trusted by brands such as Brex, Rippling, Navan, Qantas, SHEIN and many more.

Amadeus bridges the gap between travellers and their desired journeys through various platforms including travel agents, search engines, tour operators, airlines, airports, hotels, cars, and railways. With over three decades of collaboration with the travel sector, they have honed their technology to perfection. Amadeus's deep insights into travel behaviour, paired with their expertise in creating intricate, reliable, and vital systems, meet the diverse needs of their clientele. Annually, they facilitate connections for over 1.6 billion individuals with local travel services across more than 190 nations. Embodying a global perspective while maintaining a local touch, Amadeus is a unified entity present wherever their clientele requires. Their mission is to sculpt the travel landscape of the future, driven by a fervent desire to innovate and enhance travel experiences through superior technology.
Saffron x astara partnered to present the City Brand Barometer 2023, an annual study that evaluates global city brands through their promise, experience, and delivery. One of the world's leading mobility companies, astara offers tailor-made, sustainable mobility solutions across multiple industries, backed by data intelligence. Saffron is an independent global consultancy dedicated to making brand memorable. Featuring bespoke, data-driven research from astara Intelligence, the company's advisory division, Saffron's City Brand Barometer will now investigate how mobility affects the experience and memorability of global city brands.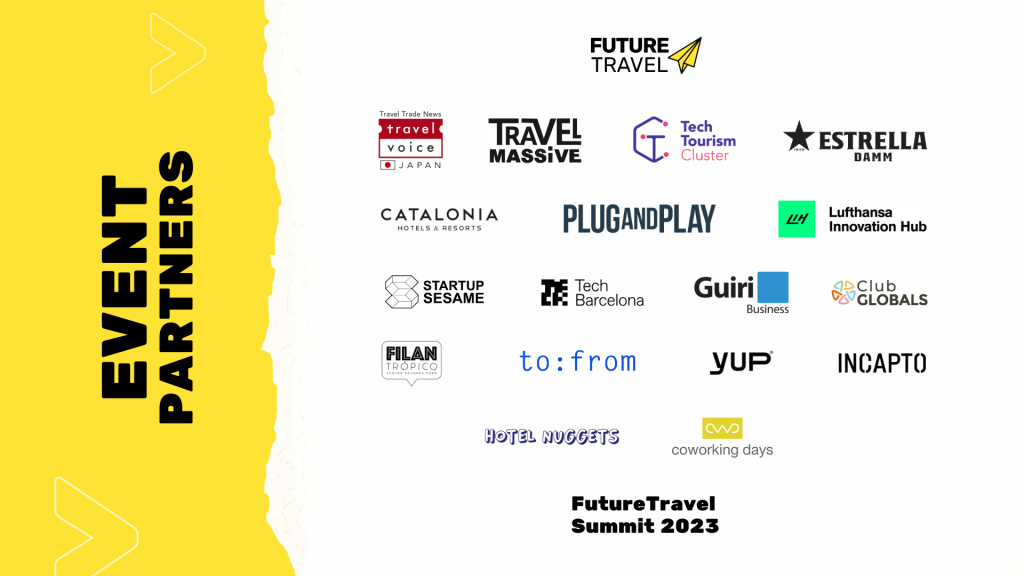 We are looking forward to keeping the conversation going online, and to see you at next year's FutureTravel Summit!
Check out this amazing gallery we've put together of the event – if you were there maybe you can spot yourself?